What is BAM Box and Move
®
?
BAM BOX AND MOVE® IS A FUN, ACTION PACKED FITNESS WORKOUT! THAT INCLUDES:
◊ BAM Combination & Pad work
◊ Adaptive Interval Training
◊ Body Sculpting / Core Conditioning
◊ A Symmetrical Postural Toning System
Unlike, other established boxing themed classes BAM focuses on your symmetrical development opposed to the traditional solitary stance and techniques of previous established boxing themed classes. BAM promotes modern day disciplines to develop and enhance:
◊ Cognitive Processes (such as hand-eye co-ordination and reaction efficiency)
◊ Postural Alignment & Stability (Body Strength and Balance)
What does a typical class involve?
Each BAM workout will consist of:
◊

Dynamic Warm-up
This will include a demonstration of the boxing combinations to be used in the following sessions. The Warm-up will raise your core temperature and you're your muscles suppler in preparation for the class ahead. The Warm-up can last between 5-10 minutes and will be delivered at a moderate pace.
◊
Phase #1 (
Pad Work
)
In this phase there are assigned combinations to perform in a neutral/open stance. This helps us to focus on core stability, balance and postural alignment, hand eye co-ordination, speed and agility. With this in mind we encourage momentum opposed to power shots, which in-turn deliver a higher cardiovascular output than that achieved in other many other boxing workouts.
◊
Phase #2 (
Adaptive Interval Training
)
The interval training section enables the participant to go all out, giving 100% through quick, intense bursts of sequential manoeuvres, followed by short recovery periods. Each set will have a number of exercises within a set duration. This type of training fires up and maintains your heart-rate, while burning more fat in less time. This phase uses a system of varied intensity workouts which alternate with short rest periods. Options will be offered to suit all levels of participants from novice to advance.
◊
Phase #3 (

Body Conditioning & Deep Stretch

)
Elements of this phase derive from Contrology and mainly focuses on technique, posture and alignment while being performed to moderate paced music. This phase is complete with a sequence of stretching manoeuvres to which encourages an easier return to homeostasis.
What are the benefits of BAM?
◊
Improved postural alignment & core strength
◊
Improves speed, co-ordination and reflexes
◊
Develops strength, tone & body awareness
◊
A firmer flatter stomach with a more defined waist
◊
Alleviates muscle tension and improves flexibility
◊
Rediscover your body's natural movement patterns and restore balance
◊
B
uilds on Self-esteem and heightens Confidence
◊
Supports MENTAL and PHYSICAL WELL-BEING
Any tips for beginners?
Take it easy during the warm-up and focus on the technique throughout the session. After one or two classes you will feel like a pro in these action packed exhilarating workouts.
How can you expect to feel after a class?
When you come out of a BAM session you will know that you've had a workout whilst also feeling energised! BAM is the perfect way to burn calories and relieve stress.
♥

Testimonials

♥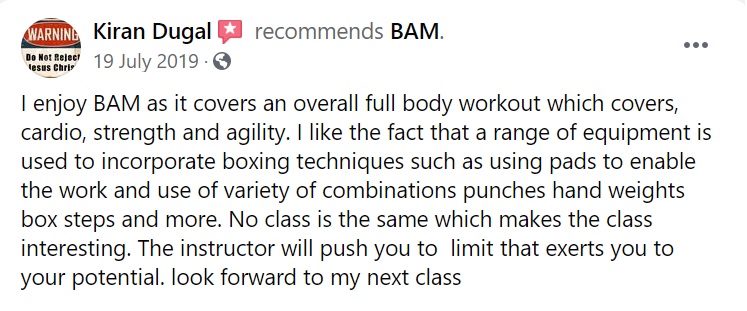 ---

What is BAM Cardio
®
?
BAM CARDIO® is a 30 minute High Intensity Fitness Workout designed to suit the needs of participants with mixed abilities. This session is non-contact which includes:
◊
Weighted Shadow Boxing
◊
HIIT (High Intensity Interval Training)
◊
Body Sculpting / Core Conditioning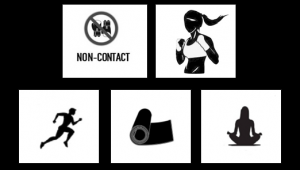 BAM CARDIO provides an explosive routine of HIIT in the form of a fun and energetic fitness routines which is ideal GROUP EX or PT workouts. Unlike BAM, BAM CARDIO is non-contact fitness session which is ideal during recent times in lockdown.
All the same key principles BAM BOX AND MOVE are replicated in BAM CARDIO to promote:
◊ Fat Burning
◊ Postural Alignment
◊ Balance and Core Stability
◊ Hand-eye Co-ordination
◊ A Symmetrical Body Conditioning System
BAM CARDIO alternates short periods of intense anaerobic exercise with less intense recovery periods, until too exhausted to continue.  Although, the gloves are literally off in this version of BAM, BAM CARDIO delivers an explosive mix of Cardiovascular, Body Conditioning followed by a deep mobilising stretch routine to bring to a close your energising workout.
The Benefits of BAM Cardio
®
◊ Improves cardiovascular fitness
◊ Builds and retains lean muscle whilst eliminating fat
◊ Increases metabolism
◊ Improves athletic endurance
◊ Helps burn more calories while at rest
◊ Ever changing workouts
◊ Can be done in any fitness environment whether its delivered as Group EX or PT